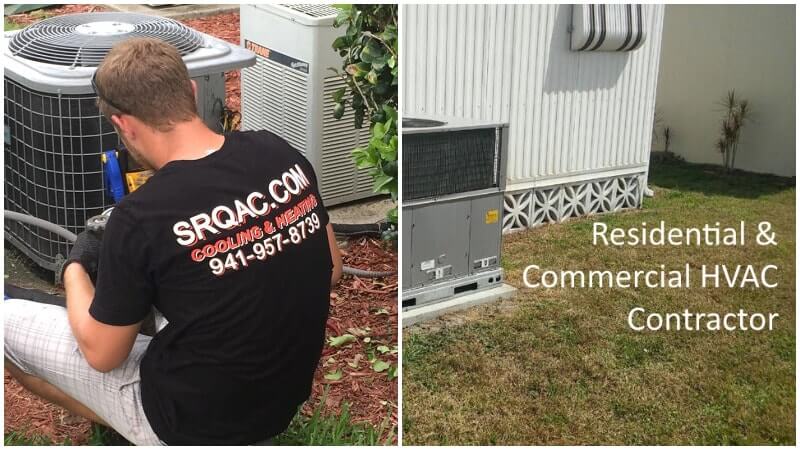 When your air conditioner breaks down or you need a new one to keep your house cool and comfortable, it's always important to hire best and experienced air conditioning repair contractor in Osprey FL. By getting the help of reputable Osprey ac repair company, you guaranteed yourself professional and quality service. And that's where SRQ AC comes in. Many of our customers love our services and have been more than glad to spread the word about our quality services. (See our customer testimonials).
Reputable Osprey Air Conditioning Repair Contractor
Hiring the best hvac and air conditioning contractor in Osprey, FL, gives you peace of mind when you need emergency ac repair. Or when you simply want to replace your old and dying ac unit, so that you can stay cool in the summer, and also to make sure that your energy bills are not too expensive.
That's why to meet various heating and cooling needs residents have in Osprey, FL, our services include:
–AC inspection and maintenance
–New HVAC systems sales and installations
–Air duct / Air vent cleaning and sanitization services
–Heating systems repair and maintenance
–Blown-in insulation installation. 
We also service many surrounding areas near Osprey such as Sarasota, Bradenton, Bradenton Beach, Holmes Beach, Longboat Key, Anna Maria, Lakewood Ranch, Venice, and Nokomis, FL.
When looking for a good ac service provider in Osprey, like SRQ AC, it's always good to keep in mind a few things, like reputation, customer reviews, and testimonials. Good HVAC contractors have great customers reviews and recommendations as we do, these go a long way to instill confidence that you are hiring the best local ac repair and air conditioning service in Osprey, FL.
That's why SRQ AC is considered by many in our area as a trustworthy heating and cooling HVAC services contractor.
New AC Installation & Sales
As an experienced air conditioning repair, and installation services provider, we sell and install all makes and models of air conditioning systems and brands. We also provide financing subject to credit approval, which you can inquire about by calling us today.
Expertise
We also handle ac maintenance & check ups, in addition to 24/7 emergency ac repair HVAC services to residents and businesses in Osprey, FL. When needed we will come out to your property any time that your AC system is on the fritz, so that you are not left in the sweltering heat during our Florida summers. We also provide insulation installation services so that your building is most thermally conducive to keep your cool and comfortable without breaking the bank with high energy costs.
In addition, with our air duct cleaning and sanitizing services allows airflow to flow without being restricted in your house/building. Duct cleaning services are also important and should be done regularly.
In Home Estimates
With SRQ AC, you will find a trusted, local Osprey, FL air conditioning repair company. We provide in home estimates and when compared to other local hvac contractors, you will find that our prices are fair and competitive. In addition, we believe in repairing first before replacing, because we value and operate in integrity and we also believe in saving our customers money.
That's why we will not recommend a new a/c when all it needs is repairs. And you can also call us to get a second opinion if you feel a previous quote by another hvac company doesn't sound right to you.
Preventative AC Maintenance & Inspections
Get our preventative ac maintenance services for your HVAC system, which will enable to keep your heating and cooling costs low. Our maintenance service makes sure that your air conditioner unit performs optimally especially when you need it in the hot summer months. That saves you money in the long run.
Call us today for any and all emergency AC repair and be confident you will get expert and quality customer care at a price you will love.
We service all residents and local businesses in Osprey, FL.