Air Conditioning Systems Maintenance Service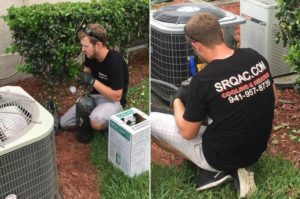 For maximum functionality and efficiency, it's important to have regular and scheduled ac maintenance for your air conditioning and heating systems by cleaning air ducts, other ac components for high indoor air quality, running diagnostics and system checks.
This allows for any small issues to addressed quickly to avoid small problems becoming a big mess. And to discover any hidden issues that may present a health or safety hazard.
This means that as a homeowner, it's critical that you have an expert hvac contractor handle all your ac repair needs, new hvac installations, replacements or maintenance services, and furnace repair and installation services. We also provide industrial/commercial ac service to businesses, and also blown in insulation installation service.

HVAC Maintenance & Repair
As a local HVAC company we provide a full range of ac repair and maintenance services for local homeowners and businesses. Which includes servicing air conditioning and ventilation systems, light industrial and industrial split systems as well.
Our highly qualified and skilled technicians are equipped with all the necessary diagnostic equipment and certification, coupled with many years of experience and a good track record.
You can hire us to provide one-off repair and preventive maintenance, or periodic and regular maintenance for your ac, heating and furnace equipment installation.
Call Now To Schedule a 21 Point Maintenance Service for ONLY $69.99
Part of our 21 point inspection and maintenance service includes:
Running hardware diagnostics

Checking the operating pressure in the system

Refueling freon gas (within the allowable leakage)

Cleaning filters of the indoor unit

Cleaning air ducts
There are a couple of reasons why it's important to have periodic maintenance for your air conditioner, heating and furnace units?
You extend the life of your hvac unit.

You improve your indoor air quality by regularly cleaning and inspecting the drainage system and air filters.

Detect hidden problems early before they become a big problem and cost you a lot of money.

Provide for a safe, healthy environment by removing dust and dirt particulates that accumulate over time, especially for households that have pets.

This is especially beneficial if you have kids or even adults with allergy problems and respiratory health issues
We service residential homeowners and local businesses in the various locations in the area, including Bradenton, Lakewood Ranch, Bradenton Beach, Holmes Beach, Anna Maria, Venice, Longboat Key, Osprey, and Nokomis, FL.
So call us today and schedule a 21 point preventative maintenance service that we provide at great price that is practically unbeatable in Sarasota. Call 941-957-8739 or send us email by via our contact us page.