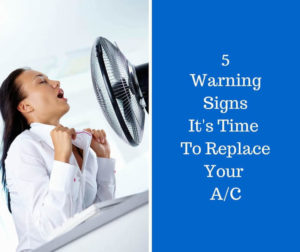 One of the biggest decisions you will make as a homeowner is when it's time to replace you air conditioning unit.
In Florida, it's a given that you must have a properly functioning and well maintained air conditioning system since we spend most of our time indoors.
So when do you know it's time to replace your air conditioning and heating unit? What signs or clues should you be looking out for?
Well, there are several signs to watch out for, and factors to consider that gives you an idea when that time has come.
When Is It Time To Replace Your Air Conditioning Unit?
1.) Age: An A/C system can last an average of 15 years or longer, if its well maintained. So if your A/C is more than 10 years old, consider replacing it because newer models today are typically 20%-30% more energy efficient than air conditioners that are just 10 years old.
2.) Frequent breakdowns: If you keep having to call for ac repairs a lot, that's a tell-tell sign its time to replace your unit. Repair costs can really add up. So its no good use of your hard earned money to spend a lot of it, on an older unit that is on its way out. In addition to the hassle of having to call your A/C technician frequently, because your heating and cooling unit broke down again for the umpteenth time.
We provide financing for new air conditioners, subject to credit approval.
Call us today and ask about available offers!
3.) Expensive repairs: If you are facing an expensive repair, then it's wise to weigh this cost vs the cost for a new A/C unit. If the cost for repairing your existing air conditioning system can cover a large part of the purchase price for a new AC, then it may be wise to just get a new unit. Which will also save you more money in the long run, because newer units are 20%-30% more energy efficient.
4.) Your home doesn't get cooled enough and Your utility bill keeps rising: Considering other factors on this list, that's another tell-tell sign that it's time to consider replacing your air conditioner. So if you have a hard time keeping your house cool, it's a sign that your A/C is aging. It can also mean you HVAC system is incorrectly sized to your house, meaning your AC system's capacity doesn't meet the heating and cooling needs of your home. Thus, the need to buy a properly sized unit based on the size of your house.
5.) Your AC unit uses R-22 Freon: The EPA is phasing out R-22 refrigerant to be replaced by R-410A, which is more environmentally friendly. As a result, the prices for R-22 have increased drastically. In fact, HVAC manufacturers ceased making AC units using R-22 refrigerant back in 2010. So repairing a leak in a unit that uses R-22 can cost you about the same price for a low end air conditioning unit.
At SRQ AC, we sell various makes and models of air conditioners and heat pumps. In addition to their installation and maintenance. Financing is available, subject to credit approval. We also service residents and local businesses in Sarasota, Siesta Key, Bradenton, Bradenton Beach, Lakewood Ranch, Osprey, Nokomis, Anna Maria Island, Holmes Beach,  Longboat Key, Venice, FL and the surrounding area.
So call us today and ask about any ongoing special promotion and pricing. We are open 24/7 for all emergency ac repairs as well.