Air Duct Cleaning Services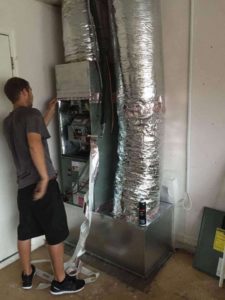 Because we live in a modern, urban environment, it's important to make sure you have regular air duct cleaning service done on your hvac system as part of your ac maintenance. Why? Because we spend most of our time indoors due to our warm Florida climate. Therefore, we have our air conditioning systems turned on most of the time, or all day long. 
This results in the build up of many air pollutants, dust particles, and pollen in the air ducts. These particles and air pollutants are present in our homes and business premises, and are common triggers for allergies and many other respiratory health issues. Especially for those who have a sensitive or weak respiratory system.
So by cleaning your heating and cooling system air ducts, you end up improving your indoor air quality. This helps by greatly reducing dust, dirt, and pollen particles in the air that may contribute to a health issue.
This is especially the case for home owners who have pets. Animals like cats and dogs shed a lot of their fur, depending on the type of breed. So it's important to make sure you have duct cleaning service done regularly by a reputable, local Sarasota ac repair company. 
In addition to pet owners, people who smoke in their homes should also consider frequently cleaning their heating and cooling air vent system. Also, if you have recently experienced water damage in your house or property, consider duct cleaning to remove the possibility of mildew being present in the air vents.
We provide duct cleaning services and our HVAC technicians are certified and trained with many years of experience. We offer this as part of our maintenance program, which helps to keep your air conditioning unit running smoothly and for a long time to come. In addition to improving the quality of air in your house and thus, removing respiratory problem causing agents in the air that may cause some health issues.
Other additional hvac services that we provide include, new ac installations and replacement, emergency ac repair, furnace repair, commercial/industrial ac services, and blown-in insulation installation.

Another great benefit of vent cleaning is it improves the efficiency of your hvac system. Which results in your ac unit consuming less energy in order to run, and so saving you some money.
Our duct cleaning service contributes to your ac system having a longer life span. Thus, saving you money in the long run as a result of being a well maintained heating and cooling system. Not to mention any health costs avoided that otherwise may come about due to poor indoor air quality.
If you are moving to a new home, it's good to have the duct work of the house checked out or cleaned. The previous occupants may have been pet owners, smokers, or they may not have cleaned the air ducts for a very longtime. So by having the vents cleaned or checked out, this gives you peace of mind.
People often notice a huge difference after getting our cleaning service in terms of improved air quality, ac performance, and efficiency. So if you need to have your A/C duct work system cleaned, call us today. We are available 24/7. You can also reach us through email anytime.
We also service homeowners and local businesses in various locations, including, Sarasota, Bradenton, Lakewood Ranch, Bradenton Beach, Holmes Beach, Anna Maria, Venice, Longboat Key, Osprey, and Nokomis, FL.