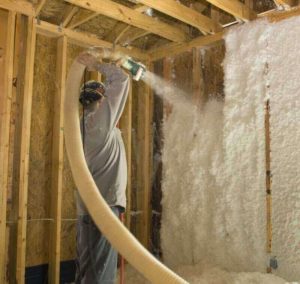 There are various forms of insulation you can use to insulate your home and in the process lower your electricity and power bills. Unless your home was originally designed and built to be energy efficient, adding insulation is necessary as it improves the ability and efficiency of your house to keep the heat in during winter, and to keep it out during summer.
Insulation also helps your air conditioning unit run less often, because the insulation material is able to keep heat inside the house, or keep it out. Thus, making a home more energy efficient. 
Loose Fill/Blown Home Insulation
Also known as Fill Insulation, it's commonly installed on structures that have never had any insulation installed. Blown insulation has several advantages: it's economical, can work around obstacles such as chimneys and stove vents, and it's also easy to install. In addition, Blown Insulation is eco-friendly because it uses recycled materials. This insulation is usually blown into a wall cavity or an attic.
Insulation Removal and Replacement for both Residential and Commercial Properties
There comes a time when the insulation in your property becomes old, worn out, contaminated, and/or badly damaged. When this happens, the old insulation requires removal and replacement because failure to do so, leads to higher electricity bills, health risks due to exposure from contaminants such mold present in the old insulation material that has built up over time. Or introduced there by some contaminating agent, or circumstances such as water damage.
The removal and replacement of insulation material in your property comes with a number of benefits which include;
-Strengthening the structural damage of the home and improving energy efficiency.
-Preventing harmful bacteria from causing health issues and diseases.
-Curbs diseases from spreading.
-Removing odors that are left behind by rodents and pets.
Retrofit Insulation – This is meant to replace existing types of insulation. Most new structures today are built with insulation. However, some of them may later require retrofitting to cover up areas that were initially not insulated correctly. Retrofit insulation has proved to be very effective as it helps reduce electricity and energy bills, among other benefits.
Insulation For New Construction – If you are constructing a new home or commercial building, make sure you include this energy saving feature. Some key features to note while insulating a new building or structure, is to identify the type, thickness, and R-value of the insulation material to be used. 
So when it comes to insulation, you have a range of good options, and equally important you should hire the best, most qualified professional insulation contractor in Sarasota.

We have many years experience installing insulation for a wide range of buildings for local businesses and residential homes in the Sarasota Suncoast area. Our service area coverage includes Bradenton, Bradenton Beach, Lakewood Ranch, Ana Marie Island, Longboat Key, Siesta Key, Nokomis, Venice, FL and the surrounding areas.
We do new a/c installations, ac repair, hvac maintenance and inspections, air duct cleaning, indoor air quality checks, heating systems repair, furnace repair, and commercial air conditioning services.
Call us today at 941-957-8739 and we will help you chose the best type of insulation you need.